Seniors commonly experience some changes in their mobility. Limited mobility and cognitive decline can start to present some challenges in daily life. However, help is near. Assisted living communities like The Gardens at Quail Springs in Oklahoma City offer specialized care and amenities that cater to seniors' unique needs.
In this blog post, we will explore how assisted living facilities in Oklahoma City, particularly The Gardens at Quail Springs, alleviate mobility issues and provide exceptional memory care for seniors with dementia.
What Do Assisted Living Facilities in Oklahoma City Offer?
Oklahoma City assisted living communities like The Gardens at Quail Springs stand out for their dedication to providing comprehensive care, fostering independence, and promoting an active and engaged lifestyle.
Addressing Mobility Issues
Maintaining mobility is crucial for seniors to lead fulfilling lives and enjoy retirement. Assisted living offers many amenities and services to enhance mobility and ensure the well-being of residents. These include:
Accessibility: The Gardens at Quail Springs features wheelchair-accessible facilities, including ramps, elevators, and spacious hallways, ensuring residents can move freely and independently.
Exercise and Physical Therapy: Regular exercise programs are tailored to seniors' needs, and are supervised by trained professionals. These activities help seniors improve strength, balance, and flexibility, reducing the risk of falls and promoting overall physical well-being.
Personalized Care Plans: Individualized care plans for residents with mobility challenges consider their specific needs, abilities, and preferences. This ensures they receive the support necessary to navigate their daily lives comfortably.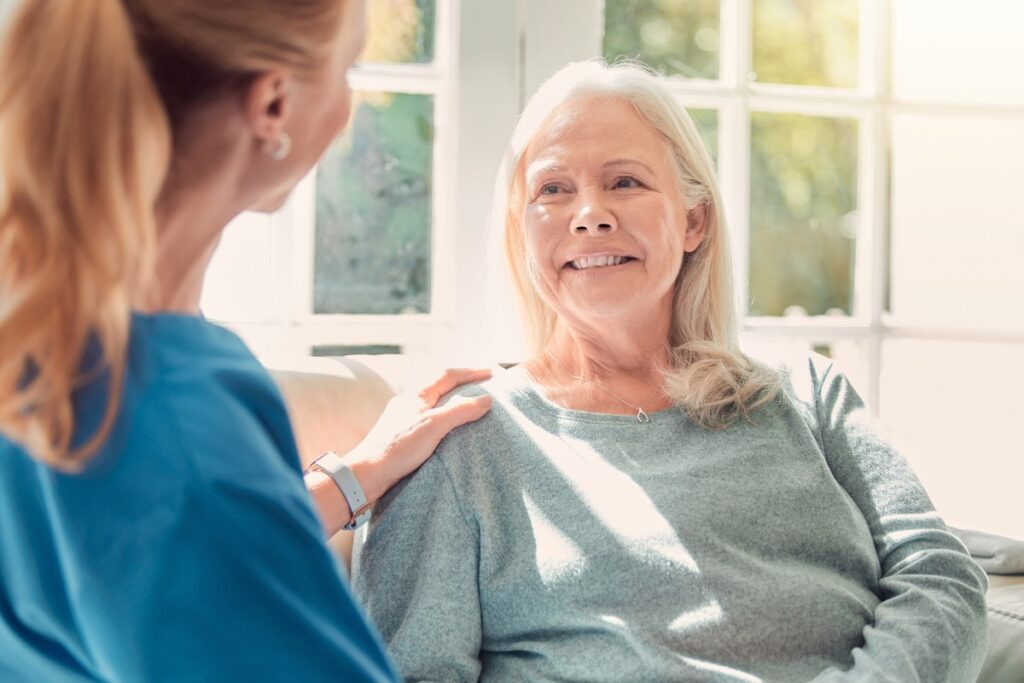 Assisted Living at The Gardens at Quail Springs offers a comprehensive range of services designed to meet the unique needs of seniors. Here are some of the key services:
Assistance with Activities of Daily Living (ADLs): The highly trained staff at The Gardens assists with activities like bathing, dressing, grooming, toileting, and medication management. This support allows residents to maintain their independence while moving freely and managing their day.
Dining Services: Restaurant-style dining means nutritious and delicious meals prepared by skilled chefs. Special dietary needs and preferences ensure that residents receive well-balanced meals. And the best part? You don't have to worry about cooking!
Housekeeping and Laundry: The community handles housekeeping and laundry services, helping residents maintain a clean and comfortable living environment without the burden of household chores.
Transportation: Transportation services help residents with limited mobility attend medical appointments, run errands, and participate in scheduled outings and social activities.
Social and Recreational Activities: The community organizes many social and recreational activities to promote physical and mental well-being. These activities may include fitness classes, arts and crafts, group outings, educational programs, and entertainment options.
Health and Wellness Programs: The Gardens at Quail Springs focuses on promoting health and wellness. They offer exercise programs, wellness clinics, health monitoring, and regular check-ins to ensure that residents' physical and mental well-being is optimal.
24-Hour Staff Availability: Staff is available 24/7 to provide assistance and respond to any emergencies or urgent needs that may arise.
On-Site Amenities: Common areas for socializing, beautifully landscaped outdoor spaces, libraries, beauty salons, and more make life more like a vacation. These amenities enhance the overall living experience and provide opportunities for residents to relax and enjoy their surroundings.
Memory Care: The community has a specialized memory care program for residents with dementia-related conditions. This program includes tailored activities, memory-enhancing exercises, and a secure environment to support and care for those with memory loss.
Memory Care for Seniors with Dementia
Dementia, including conditions like Alzheimer's disease, can cause memory loss and cognitive decline, leading to confusion and anxiety. Specialized memory care is designed to address the unique needs of seniors with dementia, including sundowning syndrome. Here's how The Gardens provides exceptional memory care:
Trained Staff: The Gardens at Quail Springs employs a team of compassionate and well-trained staff who specialize in memory care. They are experienced in handling the challenges associated with dementia, skilled in providing personalized support, and helping manage mobility issues and wandering associated with sundowning.
Structured Routine: Establishing a structured routine is vital for seniors with dementia. The Gardens at Quail Springs implements daily schedules that include cognitive exercises, engaging activities, and social interaction, helping residents maintain a sense of familiarity and reducing anxiety.
Secure Environment: The Gardens at Quail Springs maintains a secure environment to ensure the well-being of residents. The facility is designed to minimize confusion, with clear signage, controlled access, and secure outdoor spaces that allow residents to enjoy the outdoors safely.
Memory-enhancing Programs: The Gardens offers memory-enhancing programs that stimulate cognitive abilities, promote socialization, and help residents preserve their existing memory function.
Assisted living facilities in Oklahoma City, like The Gardens at Quail Springs, play a pivotal role in alleviating mobility issues and providing specialized memory care for seniors. By offering accessible environments, personalized care plans, engaging activities, and trained staff, these communities enable seniors to live better lives with improved mobility and enhanced cognitive function.
If you or a loved one requires assistance and a nurturing environment, consider exploring The Gardens at Quail Springs.
We're leading the way in outstanding care and support.
Contact us today to see how we can help your loved one regain independence.