Witnessing changes in your loved one's memory and cognition can be bewildering and concerning. If you suspect that Alzheimer's or dementia may be affecting their well-being, know that you are not alone.
At The Gardens at Quail Springs, we offer family members a helping hand. We provide specialized care for loved ones in the heart of Oklahoma City. Join us at a support group or monthly event.
Caring for someone with Alzheimer's or dementia requires knowledge, patience, and a supportive environment. It's crucial to recognize the signs of cognitive impairment.
Seek professional guidance from a doctor to ensure your loved one receives the appropriate care. Dementia care in Oklahoma City can give them the attention they deserve.
Our Oklahoma Alzheimer's care community supports many types of dementia. Many families come to us and don't understand the difference between nursing homes and memory care facilities in Oklahoma City.
Alzheimer's and dementia require specialized care that lets loved ones be active and social. Skilled nursing and assisted living facilities often do not have the training to facilitate those qualities.
We want to explain why older adults with memory loss require specialized support and where to find Oklahoma dementia care.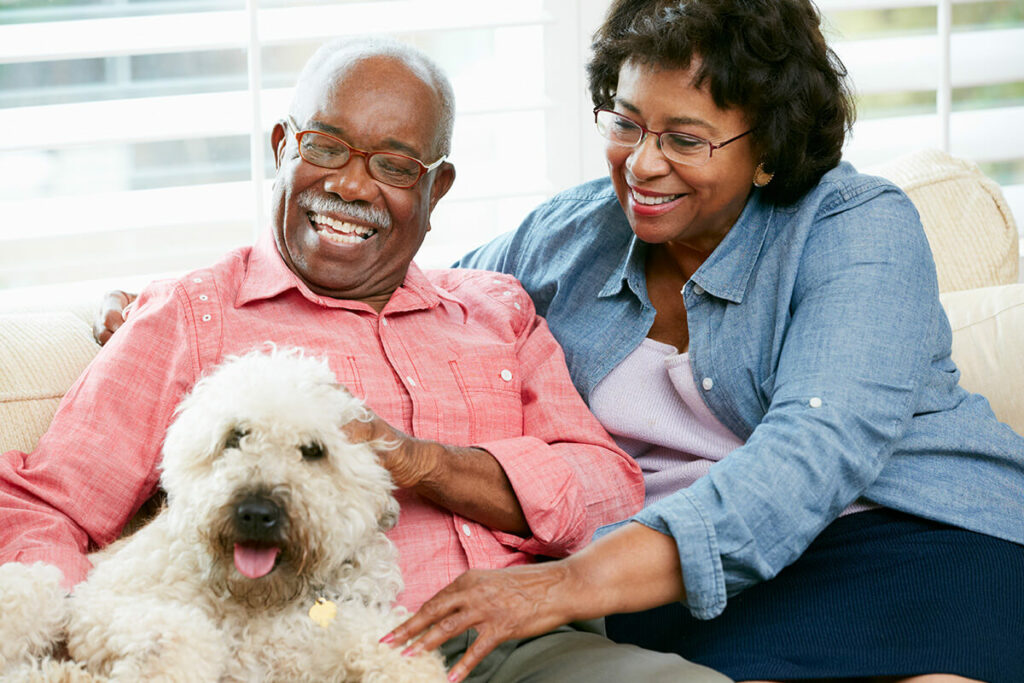 Defining Alzheimer's
Let's start by understanding the difference between Alzheimer's and other forms of dementia. Alzheimer's is a specific type of dementia that primarily affects memory, thinking, and behavior.
It is the most common form of dementia, accounting for 60-80% of all cases. However, it's crucial to note dementia is an umbrella term encompassing several conditions with similar symptoms.
All forms of dementia, including Alzheimer's, are not normal parts of aging.
The Difference Between Alzheimer's and Common Types of Dementia
There are less than ten common types of dementia. However, there are many rare forms as well. Let's discover some of the known types of dementia.
Vascular Dementia
Vascular dementia is characterized by reduced blood flow to the brain, often due to strokes or other vascular issues. Unlike Alzheimer's, this type of dementia typically exhibits a more abrupt onset and may result in difficulties with movement or coordination.
Lewy Body Dementia (LBD)
LBD is characterized by the accumulation of abnormal protein deposits in the brain, known as Lewy bodies. This accumulation leads to cognitive and motor symptoms. What sets Lewy body dementia apart from Alzheimer's is its manifestation of hallucinations, fluctuating alertness, and significant motor impairment.
Frontotemporal Dementia (FTD)
FTD primarily affects the frontal and temporal lobes of the brain, leading to personality, behavior, and language changes. Unlike Alzheimer's, this type of dementia often emerges earlier in life and primarily affects social behavior and language skills.
Additional Types of Dementia
There are forms of dementia associated with other conditions. Parkinson's disease can lead to dementia as the condition progresses. It impacts both movement and cognitive functions.
Huntington's disease is an inherited disorder. It causes progressive brain damage resulting in physical and cognitive decline.
Creutzfeldt-Jakob disease is a rare degenerative brain disorder. Abnormal prion protein build-up leads to rapid cognitive deterioration and neurological symptoms.
Understanding the different types of dementia is essential for proper diagnosis and specialized care. Seek a comprehensive medical evaluation if you suspect your loved one may be experiencing memory loss or cognitive changes.
Diagnosing Alzheimer's and Dementia in OKC
Diagnosing dementia is important in understanding and addressing a loved one's needs. While it may feel overwhelming, obtaining a proper diagnosis allows for appropriate planning and access to the right resources and support.
When diagnosing dementia, doctors typically conduct a thorough evaluation. This evaluation includes:
Detailed medical history
Physical examination
Cognitive tests
Sometimes brain imaging
The goal is to assess memory, thinking abilities, behavior, and daily functioning.
Early diagnosis can bring several benefits. It provides an opportunity to start interventions and treatments that may help slow down the progression of symptoms. It also allows individuals and their families time to plan for the future, ensuring appropriate care and support systems are in place.
Many families initially opt for home care when their loved one is diagnosed with dementia. This choice allows for the familiar environment and the comfort of staying in their own home. Home care services can assist with daily activities, medication management, and emotional support.
However, as dementia progresses, care needs will intensify. There may come a point when home care alone becomes challenging to manage. The demands of dementia care can be physically and emotionally taxing for family members. Ensuring the well-being of the individual with dementia may require additional support.
That's when finding a memory care community, such as The Gardens at Quail Springs, can become a viable and beneficial option.
Memory care communities specialize in providing tailored care and a secure environment for individuals with Alzheimer's and other forms of dementia. These communities offer a range of services, including assistance with daily activities, specialized memory-enhancing programs, and a supportive community of staff and fellow residents.
Transitioning to a memory care community can alleviate the burden on family members, ensuring their loved one receives comprehensive care from trained professionals in a secure and engaging environment.
It allows families to focus on maintaining relationships with their loved ones rather than solely managing their care needs.
Remember, each person's journey with dementia is unique, and the care needs may evolve. Exploring the available options and planning for the future can help ensure the best possible quality of life for your loved one.
Oklahoma City Memory Care Services
At The Gardens at Quail Springs, we understand the challenges individuals with Alzheimer's and other forms of dementia face.
Our community offers exceptional Alzheimer's care in Oklahoma City. Our team of dedicated dementia care specialists is here to support and uplift our residents, much like a trellis supports flourishing vines.
A Garden Walk is our signature memory care program. Residents can enjoy our beautiful outdoor spaces that promote tranquility and engage the senses. We create a secure and nurturing environment that encourages:
Social interaction
Cognitive stimulation
Meaningful activities tailored to each resident's unique needs
We have designed a comprehensive program specifically tailored to address the needs of individuals with Alzheimer's and other forms of dementia. Our senior living community also provides:
Individualized care plan
Activities of daily living assistance
Medication management
Housekeeping and laundry
Nutritious "Oklahoma-style" meal service
24/7 emergency response and team members
Find Support for Those Living With Alzheimer's in Oklahoma City
Taking the first step can be difficult, but remember that seeking support and guidance is an act of love. Together, let's embark on this journey towards enhanced quality of life and well-being for your loved one.
Contact us today to learn more about Alzheimer's care at The Gardens at Quail Springs in Oklahoma City.